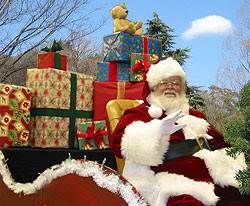 Kick off the season to be jolly at East Cobb Park's 2014 Holiday Lights Celebration Sunday, Dec. 7. This special evening will begin at 5 p.m. and feature the Mt. Bethel Christian Academy and Simpson Middle School choirs, live music by Loose Shoes band, special guest appearances by Santa Claus and Rudolph and the lighting of the live 40-foot East Cobb Park tree.
Share in the holiday spirit by giving back to our community. The proceeds from this event will go toward refurbishing and enhancing the park. The Center for Family Resources staff will also be collecting donations for its food pantry. Items to donate may be placed in marked barrels at East Cobb Park beginning 3 p.m., Friday, Dec. 5, through the holiday lights event Sunday evening. Suggested donations include canned meats, peanut butter, jelly, pasta, rice, spaghetti sauce, cereal, breakfast items, beverages, canned fruit and dry beans.
For your safety and the safety of others, please do not park along Roswell Road for the Holiday Lights Celebration. If possible, consider walking, biking or carpooling to the park. Additional parking will be available at Fuller's Park.
LIKE THIS BLOG? Then you'll love our newsletter! Click HERE to sign up for our weekly e-newsletter and be a neighbor in the know!