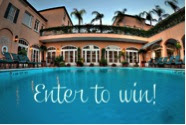 Lucky you! Hotel Monteleone will be giving away a free trip to the hotel this summer, and all you have to do is enter through their Facebook Page! Hotel Monteleone's Summer Giveaway includes a two-night stay at the hotel, welcome cocktails at the famous Carousel Bar and a dinner valued up to $100 at the popular Criollo Restaurant.
Experience the magic of one of New Orleans most historic and luxurious hotels all while spending $0 on your booking. Doesn't get much better than that! Play now by clicking HERE.
LIKE THIS BLOG? Then you'll love our newsletter! Click HERE to sign up for our weekly e-newsletter and be a neighbor in the know!