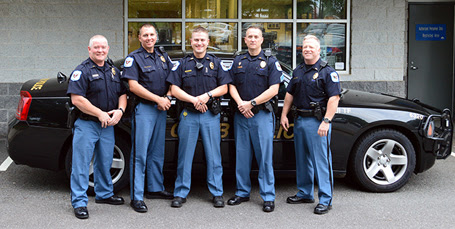 Cobb County police officers working on the DUI Task Force and for our police department were recognized by Mothers Against Drunk Driving at their annual law enforcement banquet. The banquet honors individual officers and agencies for their efforts to reduce impaired driving during the previous year. Seven Cobb County DUI Task Force members received commendations. The task force made 22 percent of all DUI arrests in Cobb County in 2014 even though they make up less than 1 percent of the police department. The department was also recognized for arresting the most impaired drivers in 2014 for an agency employing more than 500 officers. Our police department is one of 11 metro Atlanta agencies in this category. A total of fifteen officers were recognized during the event.
DUI Task Force officers recognized were:
Lt. G.A. Abbott
Sgt. J.D. Lorens
Sgt. D.J. Hull
Officer M.A. Brown
Officer T.T. Carroll
Officer S.T. Napper
Officer K.L. Mowery
Officer J.E. Bultman
Officer J.C. Munro
Non-DUI Task Force officers recognized were:
Officer E.F. Ainsworth
Officer J.C. Ferguson
Officer H.H. Hines
Officer B.R. Jackson
Officer C.N. Robles
Officer S.L. Nolen
Congratulations to the DUI Task Force and our police department.
Is there an East Cobb employee you'd like to congratulate? Visit our Facebook page or send an email to cynthia@eastcobber.com and share your news with your neighbors.