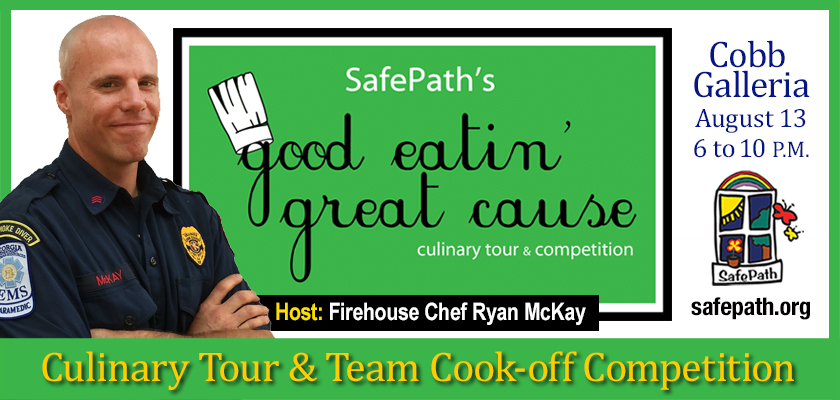 On Thursday, August 13, SafePath Children's Advocacy presents their annual fundraiser,  Culinary Tour & Competition: Good Eatin' Great Cause. From 6-10pm at the Cobb  Galleria Center, event attendees will enjoy culinary treats featuring signature  appetizers, entrees, desserts and drinks from the event's restaurant participants: Canoe, Capers, Chicken and the Egg, Figo Pasta, Seed—and more! The public is invited to join host, Chef Ryan McKay, two- time winner of the Good Eatin' Great Cause competition and a contestant on NBC'S Food Fighters (which will air July 30th). In addition, local celebrity chefs will serve as mentors in a team cook-off competition  between Cobb County Police Department, Sherriff's Office, Fire Department, and Marietta Fire Department. Be a part of an entertaining and energetic event with  incredible food, great company, and an amazing "cookingrelated" auction. The funds raised at Good Eatin' Great Cause will help SafePath provide information, resources, and programs to help abused children throughout Cobb County. Tickets are $75.
SafePath Children's Advocacy Center has been changing the lives of abused children for over 20 years. Located off of Whitlock Avenue in Marietta, SafePath provides intervention services including trauma-focused, cognitive behavioral therapy to any child in Cobb County that has experienced abuse. SafePath also offers ongoing therapy to the children and their non-offending parents/caregivers, so that they can heal from the terrible trauma they have experienced. All of SafePath's services are provided at no cost. For more information about SafePath and/or to buy tickets for the Culinary Tour & Competition: Good Eatin' Great Cause, visit: www.safepath.org or call 770-801-3465.
Keep on top of what is going on in East Cobb County! Our weekly E-newsletter keeps you informed, for FREE! Sign up for the
 

EAST COBBER

 

E-newsletter by

 

clicking here.